Sports Roundup: Sept. 28

September 28, 2018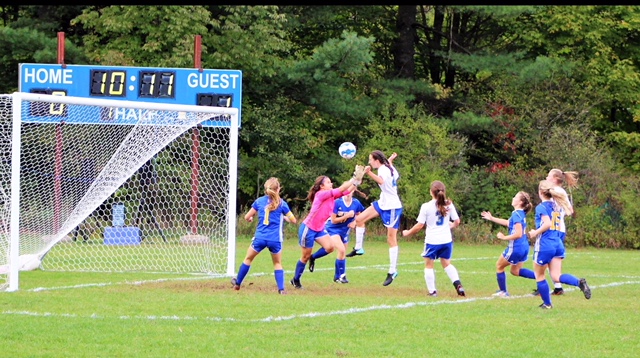 Soccer

The Panthers had a busy week!

Varsity boys suffered a 3-1 loss against Stowe on 9/22. Jack Hastings scored on a Jake Colby assist.  Nacio Levey made 13 saves.

JV boys also fell to Stowe 3-0, but then beat St Johnsbury 2-0 on Monday, 9/24. Elliott Jones and Kobe Pierson each had a goal and an assist, with Ryen Wolf making 10 saves.

Varsity girls brought home two wins this week. On Friday 9/21, they outscored Lakes Region 5-1. Casey MacVeagh scored two goals and had two assists.  Gevie Horster, Madi Powers and Emma Colby each added goals. Emma Berard had 3 saves. Yesterday, they celebrated a 4-0 win against Lamoille. Madi Powers scored twice while Casey MacVeagh and Namya Benjamin each had one goal.  

On Monday, JV Girls shut out St Johnsbury 7-0. Autumn Horniak, Chloe Benjamin and Kelsey Smith each scored 2 goals and Seraphyn Payne scored as well.  

Our Middle School team beat Waits River 12-1 on Thursday. Aidan Keane had a hat trick while Addy Cadwell and Hannah Williams added two goals. The remaining five goals came from Maddy Mousley, Nolan Pepe, Lily Hines, and Kathy Darrah.
The featured image is courtesy of Deb Powers.
Cross Country

Our High School runners pushed themselves hard in the highly competitive Manchester Invitational on Saturday.

The boys finished an extremely respectable 21st of 47 teams. Owen Deffner took 46th, followed by Eamon at 88th. Bel Spelman and Jacob Slaughter took 121st and 122nd, respectively.

On the girls' side Eloise Silver-Van Meter finished in 70th place. Layla Hanissian finished at 147th and Anabel Reining took 203rd.

The Middle School team had another strong showing on a wet and cold day in Woodstock. The girls took second overall, with three top ten runners. The boys didn't have the numbers to garner a team score, but placed one runner in the top 20.